The majority of ACRES' privately-owned properties are closed to the public for their protection, putting our nonprofit's resources toward our mission to protect land, forever.
UPDATE:
The ACRES office will be open in a limited capacity. Staff will be on hand to assist you from 9 am to 4 pm. Please wear a mask to enter the office. We have some available for use if you need one.
Maps and water will be left outside the door. If you're stopping by to make a donation or purchase merchandise, please ring the doorbell and someone will come out to help you.
PLEASE STAY HOME IF YOU FEEL ILL or have recently been exposed to someone with COVID-19
Practice social distancing, keeping at least 6-feet of distance between individuals at all times
Please wear a mask while inside the office
Thanks to member support, our trail systems remain open 7 days a week, from dawn to dusk, at no charge. It's no secret that spending time in nature benefits us both physically and emotionally. Feeling cooped up and stressed out? Find fresh air, peace and renewal at an ACRES preserve near you.
ACRES members support trails on over 50 trail systems, open dawn to dusk daily, at no charge, to inspire you to join us in preserving natural places. ACRES is not a recreational nonprofit; we are a preservation organization that offers trails, encouraging you to take action to help protect these special places and more.
Nothing speaks more clearly about the value of a natural area than your own direct experience of it.
By all means, enjoy the trails ACRES members make available. And then, join us. Our mission is big. Protecting, restoring and managing local land forever requires focus, commitment and renewing support from an ever-growing circle of people who value natural places. Your help is vital.
Preserve Visitor Rules
---
As a preserve visitor, you are responsible for keeping these habitats undisturbed.
Follow these rules to allow the preserve's plants, wildlife and natural formations to thrive here, in place, for generations:
Open Dawn Til Dusk
Foot Traffic Only
Dogs Allowed, Always On Leash
Take Nothing, Leave Nothing
Stay On The Trails
Frequently Asked Questions – FAQs
---
Why does ACRES exist?
ACRES provides individuals, families and communities a unique service in our way of treating land. Our service to the community is in leaving our privately-owned lands alone. When we do manage land, our goal is to work with a light touch, to remove past human disturbances. It is unusual to manage land in this way.
ACRES was formed because our founders were rebellious enough to take action for the intrinsic value of natural places. This is not conventional; it is, however, essential to healthy communities that natural places thrive.
ACRES founders were rebels. To this day, ACRES operates by their vision.
What is a nature preserve? How is it different from a park?
A nature preserve is a protected place where plants, animals and natural features can thrive, undisturbed. ACRES preserves deepen visitors' understanding, appreciation and connection to nature. Trails in a nature preserves offer experiences in the natural world where flora and fauna will continue to live and die, in place, for generations.
The primary purpose of a nature preserve is preservation: supporting the health of the place itself and the life it holds; the primary purpose of a park is usually recreation.
Why do I need to stay on trail?
You need to stay on the trails to help protect the plant, animal and even microbial communities in the preserves. By staying on trails, you also help prevent the spread of non-native invasive species.
Science doesn't yet fully understand the value of leaving natural systems undisturbed, but we know enough to realize that there is great benefit in keeping some places wild. Our founders called the preserves "Living Museums," places where you can visit, observe and marvel. They will always change; they will always be protected.
Why are some trail connections fenced and closed?
ACRES closes trails for a variety of reasons; the fences are meant to keep visitors out of an area. Some closures are short-term temporary, others are longer-term or permanent.
Often, we close lengths of trails to protect sensitive habitat, reduce or prevent erosion and for safety while we're working (note: we may not always be present to be "working" in an area; some projects take return visits). Other times ACRES closes trails to reduce pressure on the preserve from foot traffic.
ACRES' intends to show visitors the most spectacular places within a preserve by taking you there on the trail system.
What do I need to know before walking through an ACRES preserve?
Other than our simple rules, you don't need to know much! In fact, much of the time, you'll be able to follow the trail back to your car without any outside information or guidance.
This blog post offers guidance on:
finding your way, including using our live map with your smart phone
what to expect on ACRES' natural trails
what else you might consider
What are ACRES trail conditions?
ACRES trails are natural; they aren't paved or altered in any way other than the disturbance it takes to clear the path and keep it trimmed. We mow preserves about once a month in the growing season. Depending on when you visit between our work days, you may encounter tall grass.
Our team is not aware of trail conditions for all 50 of our trails systems all the time. Your best guide is local conditions; if it has been rainy, trails will be muddy. If lawn grasses are growing quickly, the same will be true in our preserves.
Do I need to be a member to hike?
Nope. ACRES trails are free for everyone and open from dawn dusk, thanks to member support! If you want to be a part of this community protecting land, you can become a member and enjoy the many benefits of preservation: pride, joy, exclusive invitations to closed preserves and more.
A tree is down across the trail. What should I do?
Can you step over it? Keep on trekking. ACRES staff or volunteers will remove it during their next monthly visit if necessary.
Is it a large tree, making the trail impassable or dangerous? Please let us know by emailing [email protected] or calling the ACRES office at 260-637-2273.
If you can take a photo and share your location this helps ACRES prioritize trail system maintenance. Thank You!
Can I run on the trails?
Yes! The trails provide excellent natural running paths. You might appreciate the cooler temperatures provided by a forest canopy during hotter seasons. The preserves also provide you the opportunity to engage all your senses in scenery that is always changing – on land that is thriving with life. Please be considerate of other preserve visitors.
Can I bring my school classroom, youth group, family nature club or walking group to the preserve? Can we host our own event?
Yes! You are encouraged to use the preserves as venues for your non-commercial group activity. Simply follow the comprehensive list of ACRES preserve rules and allow preserve visitors not associated with your group access to the trails and parking during your outing.
Please contact ACRES for commercial use inquiries: 260-637-2273 or [email protected]. Generally speaking, commercial use is prohibited. Commercial uses that promote conservation may be reviewed; Indiana state law prohibits commercial use in our state-dedicated nature preserves.
Why do dogs always need to be on a leash?
Your dogs need to always be on leash not only to protect the plant and animal communities in the preserves, but also to ensure other preserve visitors feel safe.
Is hunting allowed on ACRES preserves?
Hunting is not allowed on preserves with open trails; two of our preserve with trails close for hunting according to our agreements with the land donors (Little Wabash River Nature Preserve and Ruth Kern Nature Preserve).
ACRES does hunt some closed properties; we do not sell hunting leases.

We have no openings for new hunters at this time.
Why don't the trails go through an entire preserve? Why can't I see the bog and rare plants at Spring Lake Woods and Bog?
Our job is to protect these sensitive areas. Trails are offered in support of preservation and trail systems must balance your experience with our mission to protect natural areas.
At Spring Lake Woods and Bog, in particular, the bog is inaccessible and sensitive. The bog ground is not solid, making trail construction expensive, difficult and, most importantly, disruptive to the natural community that ACRES protects there.
You will find an accessible example of a bog at Glennwood Nature Preserve in Kosciusko County.
Why can't I hike on all the ACRES properties? Why are some closed?
Though ACRES offers over 50 trails systems, open dawn to dusk at no charge to visitors, this service is a small part of our work.
ACRES Land Trust members, donors and supporters invest in our promise to protect these natural places – forever. Trails support our mission, helping folks enjoy the benefits of nature and inviting preserve visitors like you to invest in helping to protect them.
Our general philosophy is that opening new trails is an exception that would require careful consideration. That said, there are sometimes specific reasons that some properties remain closed.
In line with the ACRES mission, some preserves are closed to protect sensitive areas.
Some preserves are closed because they are inaccessible, perhaps too marshy for trails or not situated for a direct access point. Some preserves are too small to create and maintain trails for an adequate visitor experience.
Some of ACRES preserves are life estates, where the previous owner currently lives or retains land use rights.
Some preserves aren't safe for visitors.
Some land donors may request that their donated land remain closed.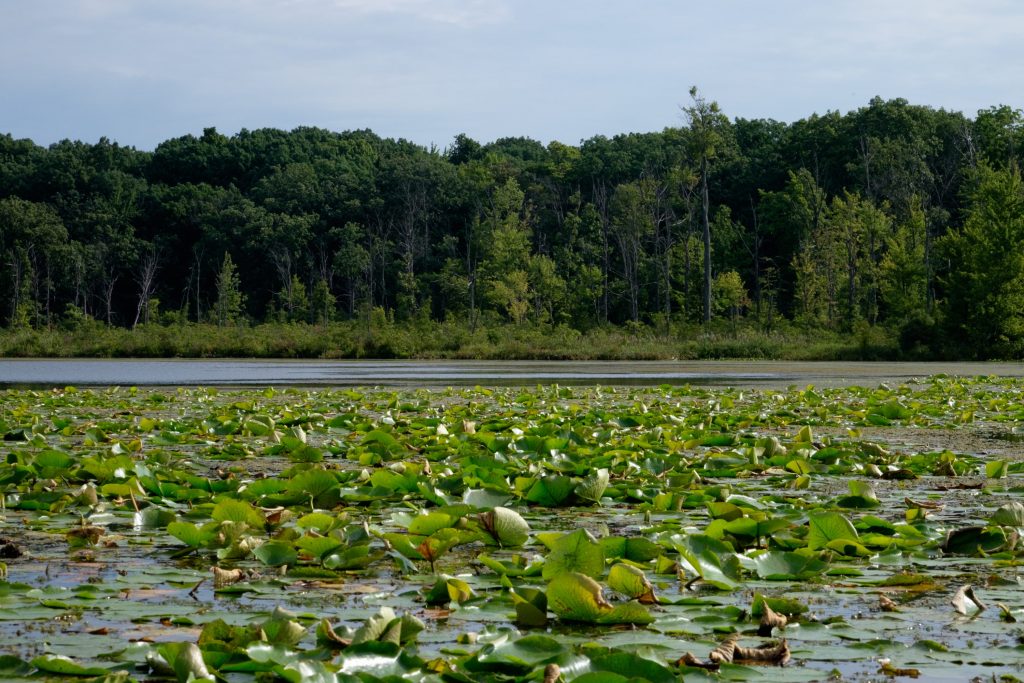 Does ACRES compete or cooperate with Little River Wetland Project, The Nature Conservancy or other natural resource groups?
ACRES Land Trust and each of these organizations are separate nonprofits with shared values, strong ties, and distinct missions. Our organizations work together to benefit our community's appreciation and understanding of natural areas, to share knowledge, and to complement each other's skill sets, priorities and missions.
How does ACRES protect land?
Once ACRES Land Trust protects a property, our name will always remain on the deed, guaranteeing its permanent protection.
ACRES does everything possible to ensure permanent protection within the current legal framework of private land ownership law. Our founders wrote and helped introduce Indiana's Nature Preserve Act established in 1967 to extend protection to preserves throughout the state.
Today, thanks to your generous support, dividends from the ACRES endowment now provide the financial sustainability to ensure that we can protect these properties – forever. A conservative draw on dividends earned on our endowment will pay necessary assessments, drainage taxes and fees on the properties we currently own.
ACRES protects land in three categories: Nature Preserves, Protected Lands, and Transferable Properties.
How does ACRES manage land?
When you observe how natural systems change with human disturbance, you can appreciate why ACRES attempts to limit our own management.
ACRES aims to minimally disturb the land we manage; we actively manage non-native invasive plants by 1) focusing on major threats and 2) focusing on specific places over a period of time. This approach allows us to see success in letting native plants and/or diversity re-establish and gain a stronghold before we move on to manage another place.
What's unique about our approach in the community, is that we aren't managing the preserves for profit. ACRES does not manage a natural place for its profitability. We don't plant trees based on their market value; we don't try to grow them straight or cut them down before they are too large. Trees on ACRES preserves will die in place and rot, continuing to serve the system. It's an uncommon approach – and why we exist.
ACRES Land Trust is one of few land owners managing land this way in the long term.
How is ACRES funded?
As a nonprofit organization, ACRES is funded primarily through your private donations. Your gifts and contributions of all sizes join together with those of others, protecting these special places in perpetuity.
People protect land for a variety of reasons; community conservation serves many and meets many goals. Check out our Deep Map for more.
ACRES receives generous support from our region's community foundations, local private foundations and major donors.
How can I help?
We're so glad you asked! ACRES invites you to take action for what you value.